Who and What is the Quality Council for Trades and Occupations (QCTO)?
It is responsible for the development, maintenance and quality assurance of qualifications within its sub-framework.
The purpose of the QCTO is to ensure quality in the development, provision and certification of occupational qualifications.
The QCTO designs and develops occupational standards and qualifications and submits them to the South African Qualifications Authority (SAQA) for registration on the National Qualifications Framework (NQF).
Ensure the quality of occupational standards, qualifications and learning in and for the workplace.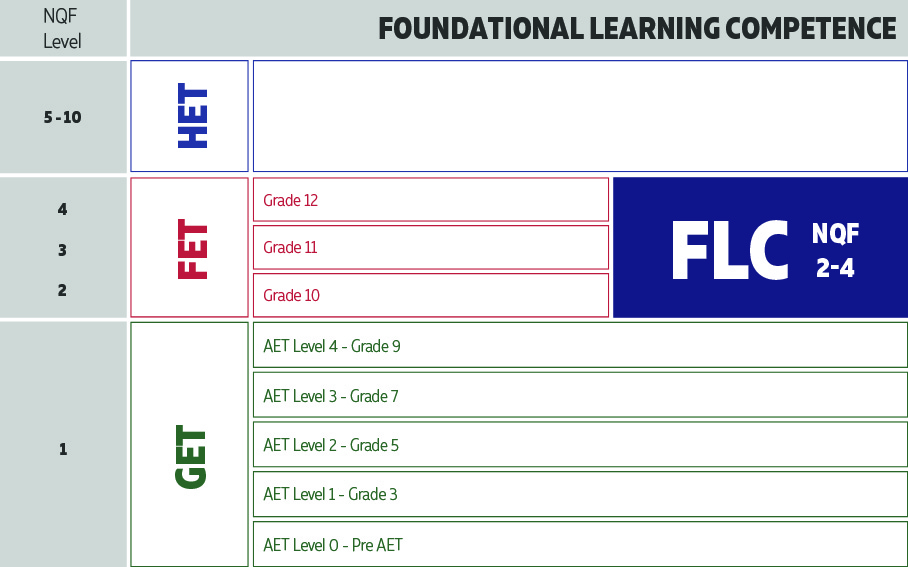 What is Foundational Learning Competence (FLC)?
Foundational Learning Competence (FLC) is a part qualification that consists of two learning areas: Communication and Mathematical Literacy.
It outlines the minimum level of competence required for optimal functioning in the world of work and for occupational learning at NQF 2-4.
It is a part qualification registered at NQF Level 2 and carries 40 credits in total. Each learning area carries 20 Credits.
FLC is directed at learners in occupational qualifications registered on NQF 2, 3 and 4 levels.
It is a compulsory component for all new qualifications at NQF levels 3 and 4.
FLC is intended to address Communication in English and Mathematical Literacy skills and knowledge required for learning across the FET sector NQF 2-4.
Why the need for FLC?
Many adult learners have a gap in their understanding of an ability to apply language and mathematical literacy concepts in the workplace.
FLC provides the minimum competence required in each learning area in order to function optimally in the world of work.
FLC increases confidence and expertise in applying language and mathematical skills in different real-life situations and context, and especially those related to uses in the workplace.
What are the entry requirements for FLC?
Learners who are competent at ABET Level 4 in English and Mathematical Literacy.
Learners must undertake a placement assessment