Broad-Based Black Economic Empowerment (BBBEE) is a form of economic empowerment initiated by the South African government with the goal to distribute wealth across as broad a spectrum of previously disadvantaged South African society as possible. It is measured through the BBBEE Scorecard, a system made up by seven elements, each with a certain weighting (points) attached to it. The elements are: Ownership, Management Control, Employment Equity, Skills Development, Preferential Procurement, Enterprise Development and Social-Economic Development. The purpose of the scorecard is to determine your BBBEE preferential procurement level and to give you a guideline on how to raise your current level.
Priority elements of the BBBEE scorecard
There are three priority elements on the BEE scorecard which companies must comply with for verification. These elements are Ownership, Skills Development and Enterprise Development. A Qualifying Small Enterprise (QSE) must comply with at least two of the three priority elements, of which Ownership is compulsory. A generic entity must comply with all three of the priority elements.
Skills development as a priority element of the BBBEE scorecard
Skills development is one of the easiest priority elements to comply with. It measures the extent to which companies carry out initiatives designed to develop the competencies of black people internally and externally. The sub-minimum requirements for skills development is 40% of the total weighting points for skills development which, on the generic scorecard, is 20 points. It is further required that black women should form between 40% and 50% of the beneficiaries of the relevant elements of the BBBEE scorecard, and that black people with disabilities, black youth, black people living in rural areas, and black unemployed people also form part of the beneficiaries. The table below shows a breakdown of the skills development weighting on the generic BBBEE scorecard.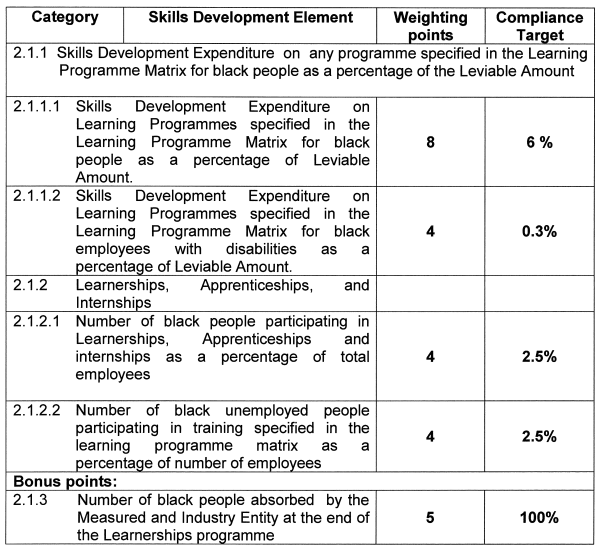 Skills development initiatives in Category B, C, and D training
As a priority element of the scorecard, skills development initiatives in Category B, C and D training will enable your business to achieve the maximum weighting under the skills development element, thereby helping your business' overall rating. One of the advantages of a well-planned and strategic skills development programme, is that your company would be able to train community-based learners, which will have a further positive impact on the socio-economic development element of the scorecard. ABET, or Adult Education and Training (AET), is classified as Category B training on the learning programme matrix. We offer a variety of ABET learning areas of which numeracy and communication in English (literacy) are the two most popular. Learnerships are categorised as Category C and D training, and we offer NQF 1 to NQF 4 learnerships in business practice, and manufacturing and engineering related activities. The most popular learnership is the Business Practice NQF 4 qualification. Because Triple E Training is an accredited service provider of ABET and learnerships it means that our clients can use the training as part of their Workplace Skills Plan (WSP), Annual Training Report (ATR), the skills development and preferential procurement elements of the BEE Scorecard, and to claim tax grants and SETA rebates. For more information on our skills development programmes, call us on
010 597 7611,
or send an email to
info@eee.co.za
. Our team has more than 20 years' experience in skills development and can help your business reach its BBBEE scorecard goals.