A Learnership programme results in enabled employees. Educated employees are the foundation of a successful business. With a strong foundation, you can build a trustworthy and efficient company.
If you give a man a fish, you feed him for today. If you show him how to fish, you feed him for the future. If you teach him how to sell the fish, you give him an occupation that will enrich him for a lifetime.
What is a Learnership Programme?
A learnership programme is a structured programme during which the nominated employee spends some time learning theory and some time learning practical, on-the-job skills. The outcome is a qualification registered on the National Qualifications Framework, which results in improved technical and work-specific skills, as well as life skills.
Who are the role players in a learnership Programme?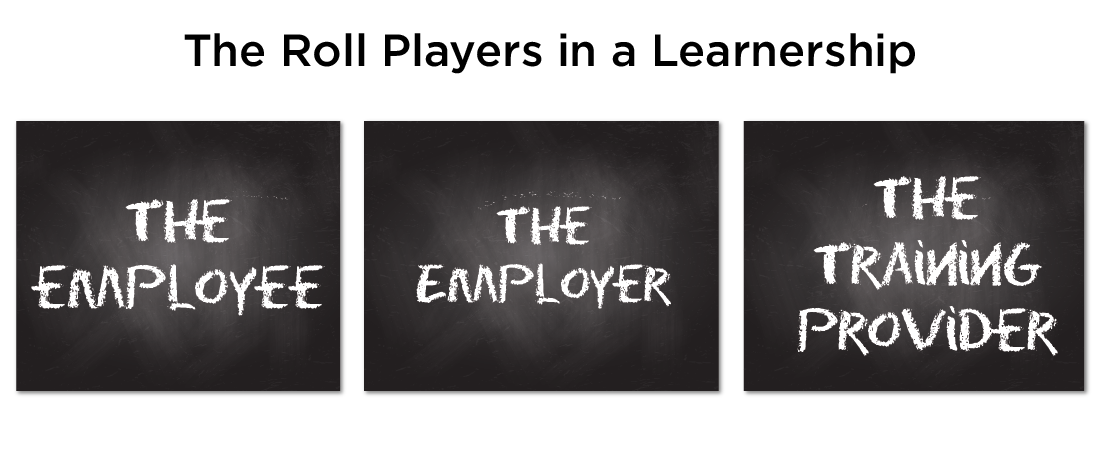 The Employee
Each Learnership Programme will have different requirements that a candidate must meet to be selected for the position. These requirements include aspects like prior education and experience.
The Employer
The Employer will provide training, guidance and mentoring to the employee. This will allow them to gain knowledge and experience in the relative field; enabling them to carry out their responsibilities in the organisation.
The Training Provider
The training provider presents theoretical training to the employee as per the required criteria. This is similar to traditional learning and is normally done in a group-learning environment. Employees will usually begin with theoretical learning which will later be applied to practical work experience.
All parties benefit from a Learnership Programme; the employee, the employer, the industry.
All three roll players will enter into a learnership programme agreement once the candidate has been accepted. The contract lasts for a pre-determined time period to ensure commitment to the programme from all parties.
What is a Learnership Programme agreement?
Learnership Programmes are becoming a favourite way to develop skills and gain real work experience in the labour market. The agreement:
outlines the rights and responsibilities of each party,
spells out the tasks and duties of the roll players,
ensures the quality of the training, and
protects the interests of each party.
Why do we need Learnership Programmes?
Even though South Africa has over five million unemployed people, companies struggle to find the skills they need amongst the workforce.
The introduction of Broad-Based Black Economic Empowerment (B-BBEE) created opportunities for South African businesses to launch learnership initiatives as part of their Social and Labour Plans (SLP's). These learnership initiatives benefit companies as well as employees. Companies have the advantage of additional points on their B-BBEE scorecard while employees benefit from the diverse methods of training. Additional B-BBEE points should not be the only reason you offer learnership opportunities. The fact that your learnership programme candidates can add real value to your company should be a positive motivator. Employees in a learnership programme will feel encouraged to perform well; they will be eager to prove themselves and relish the opportunity to put newly learned skills to the test.
What is Accreditation?
You don't have to worry about the administrative burden of having your training accredited if you work through an accredited external training provider. Ensure that the provider you choose is certified with the South African Qualifications Authority (SAQA). A Service Level Agreement (SLA) is drawn up at the outset of the project. This agreement maps out the roles and responsibilities of the parties involved. Partners commit to seeing this project through to the end. Schedules can be drawn up in such a way that they do not clash with operations. An experienced service provider will be able to balance the theory with the company's workload. The programme will meet the South African Qualifications Authority (SAQA) standards. It will ensure that employees are not overburdened; especially those who have far to travel before and after work.
Hire for attitude and train for skill.
A company can find candidates for their programmes in several ways:
Recruitment agency
Job applicants
NPO partners
Employee referrals
Companies can register existing employees too
Research proves that skilled employees perform better.
Employees are looking for growth on the job.
Career paths can be matched with steps to further training.
Educating employees builds future leaders.
Employees benefit from a structured learning environment and formal assessment.
Learnerships parallel with company needs.
Points are earned for B-BBEE scorecard.
Since they are directly related to a specific occupation or field of work, a work based learnership programme is one which leads to a National Qualification Framework (NQF) qualification. These learnerships are managed by Sector Education and Training Authorities (SETA's). The parties in a learnership agreement are protected by a legally binding contract. This agreement specifies the responsibilities of the training provider, the employer and the employee.
How can your Company Sponsor a Learnership?
Do you want to host a learnership? Would you like to uplift individuals in your community? Triple E Training can assist your company in this regard. We offer Learnership Programmes that businesses can put into action. Learnerships are linked to occupation. This allows qualified graduates to further themselves and enter the marketplace with experience in a given field.
At Triple E Training, we will take care of the red-tape headache by;
Putting learnerships in place on your behalf.
Registering your employees with the relevant SETA.
Assisting you with your company's skills development benefits and tax incentives.
Our most popular learnerships are:
Business Practice Qualification, Manufacturing, Engineering and Related Activities Qualification & ABET Practice Qualification.
What are the Benefits for the Employee?
The Benefits Learnerships offer:
Basic qualifications for employees.
Skilled, experienced worker who need less supervision.
Improved productivity.
Identify and solved short-comings in your business.
Educate and empower employees; creating a happy workforce
Can Triple E Training help you with Learnerships?
The short answer is, "Yes, for sure!" Triple E Training is an accredited training provider. We have been granted a seven-year accreditation status. This status is awarded to a private service provider at the end of a quality assurance process that attests to the quality of training services offered.
Why use accredited training providers?
There are several good reasons why your company should partner with an accredited training service provider for all its skills development requirements. Some of them include:
It is one of the qualification criteria for SETA grants and SARS tax rebates.
Rest assured that the quality of training is of high standard.
You can be assured the programmes offered are SETA approved.
When completing your BEE scorecard, you can claim points against your training expenditure.
Our SETA accredited training programmes
At Triple E Training we offer a wide variety of SETA accredited training programmes. One of our most popular options is our
Learnership Qualifications Programme
. It provides training for employees and results in skilled, experienced workers who need less supervision. These are not the only SETA accredited options we offer.
Contact one of our representatives for a full list of our training programmes.
Why choose us as your accredited training provider?
Because we are a B-BBEE Level 1 service provider, your company will benefit from the particular procurement element of the BEE scorecard. Depending on the training programme you choose, your company may also benefit from the BEE scorecard elements of skills development, socio-economic development, and enterprise development.
Contact us
To find out more about our SETA accredited training programmes
call 011 668 4300
or send an email to
info@eee.co.za
.