Did you jump on the B-BBEE bandwagon with regard to skills development? Is your training provider pushing immediate compliance, or focusing on the long-term growth of your company?
Genuine, Broad-Based BEE vs. BEE compliance
Adult Education, Skills Development and Community Training are prime examples of how to empower the people of South Africa. However, many companies are so absorbed with BEE compliance that they forget the real reason behind training and skills development should be upliftment and empowerment.
The empowerment of the people and the empowerment of the organisation.
The enrichment of the people – not the enrichment of an elite few.
The original idea behind B-BBEE was good, but unfortunately, motives are skewed.
Focus first on community development, learnerships, training and employee upliftment, and the BEE points will follow.
More to the point
Legislation is forcing you to spend money on training and development – so why not make the investment count in more places than just your scorecard. Wherein lies the benefit of training for benefits, but not for absorption? How does that positively impact the bigger picture – the future?
Narrow-minded BEE benefits the company.
Broad-Based BEE benefits the company, bubbles over into the community and overflows to benefit the country.
Let's be honest
You suddenly realise you have three months to go before your BEE audit, and things aren't up to scratch. Now there's a mad dash to 'train quickly' just to be sure you get the score your company needs. You spend money post-haste without much thought of the long term effects on your budget, your employees, or your company.
The correct order of things is: Train and get your points, not get your points and train.
If you do it right, you empower your organisation more than you realise.
Consider the analogy of a leaking roof.
Year after year you spend money patching the roof every rainy season. You are not guaranteed that the patch will hold or that the roof will not leak in a different place the next time it rains. After a few years you have spent a lot of money patching the roof and repairing the damage, making no real progress and getting no guarantees. It would have cost less if you had replaced the entire roof in the first place, plus you would have added value to your property and got a guarantee on the workmanship.
How can your Company do the right thing?
Choose a training provider with many years of experience, one who has been around from the good old days, when BEE was shiny and new and untainted by greed and bad motives.
Select a training provider who is nationwide and will train your people anywhere in SA, no matter how remote your site.
Find a training provider who remains passionate about changing lives together for a better future.
Partner with a training provider who will help you achieve the best long term goals for your company's future while ensuring that you receive the well-deserved benefits for your company now.
Who is this Training Provider?
Triple E Training of course!
We are the leaders in the field of adult education and training since 1991; that's even before BEE. We started this company because we are passionate about making a difference in the lives of the people of South Africa.
Talk about job satisfaction – we have taught thousands of illiterate adults to read and write and improve their mathematics skills so that they can improve their lives at work and at home.
We wrote the book on
AET
and then went on to encourage further adult education by developing programmes such as
FLC
,
REALLL
and
Learnerships
.
What sets Triple E Training apart from other service providers?
We handle every aspect of the training for you. From the time you call us, we do everything.
We come to you.
One of our specialists will come to your offices to discuss the different training packages.
We assess your employees to make sure they are trained only as required, so there is no waste of time money on training people at the wrong level.
We host an awareness session at your workplace, or any venue of your choice, to inform and encourage your employees.
We schedule our classes around your production times to ensure minimal disruption.
You choose the training package that best suits your situation, and we deliver all the training material to your workplace or the site of your choosing.
Our facilitators come to you and deliver classroom-based, face-to-face training.
We provide you with a team of administrators to assist you.
We communicate with you regularly so that the training programme stays on track.
We assess your employees again after the training and issue everyone with a statement of results.
We keep a record of all the people who have been trained through us, including assessment information.
Do the right thing.
Have you have seen the illustration of a conversation between a company CFO and the HR manager?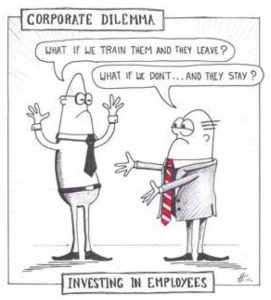 What if EVERY company changed their attitude and embraced training for the betterment of the economy? Then it wouldn't matter if people left, because you'd have the assurance that there is a skilled candidate ready to fill their place.
"Train people well enough so they can leave, treat them well enough so they don't want to." @richardbranson.
Partner with Triple E Training: Changing Lives Together
Call us
, remember, we come to you!