What are ABET Courses in South Africa?
ABET, or Adult Basic Education and Training, also known as
AET, Adult Education and Training
, gives the adult learner a firm foundation upon which lifelong learning can take place. It is a significant problem in many countries that adults are not literate enough to learn anything beyond school; by giving the basics of literacy and numeracy, and building a conceptual foundation for them, it enables them to build on this knowledge. This foundation comprises not only literacy but also other skills and attitudes covering a wide range of conceptions and views. Adults are moved into a mental space where they can better comprehend what is being taught, and as a result learning transfer is not only more effective but long lasting as well. AET / ABET is considered to be a flexible platform upon which development is built. It targets particular requirements within specific groups of people. It also provides a means of obtaining certificates and qualifications that are recognised nationally.
AET leads to Lifelong Learning
It is estimated that South Africa has a population of more than three million illiterate people who can all benefit massively from work-based and community-based adult education and training. Not only is their literacy improved, but other valuable cornerstones for further learning are set down by this valuable training.
Even though these courses have their origin in adult literacy classes, it must not be confused with literacy courses because they cover a lot more than literacy.
All the SETAs in the country have their own course offerings and recognised course levels, and ABET is no exception. Some of these SETAs target only people already employed in the work market, such as the Bank Seta. Others, such as the Agriseta, have programmes that will include unemployed people as well. These courses are aimed at making workers more employable through the increase of literacy and numeracy levels. Within some of the SETAs such as FASSET (Finance and Accounting Services Sector Education and Training) which makes up the bank and financial services SETA, the literacy and numeracy levels usually are quite high, and there the focus is generally on training the less experienced staff in the workplace. All companies are further widely encouraged to actively participate in these programmes through the Skills Development Act, which allows them to claim levies for AET courses for their staff.
We develop our own content!
Triple E Training has developed instructional units and assessments that guarantee instruction which is satisfactory to the company's and worker's needs. Appraisal of the learner's proficiency assures that they can apply their literacy and numeracy skills in 'real world' situations. The four levels of AET training are equivalent to Pre AET Level 1 Basic; Grade 9 is equal to NQF 1.
Adult Education and Training AET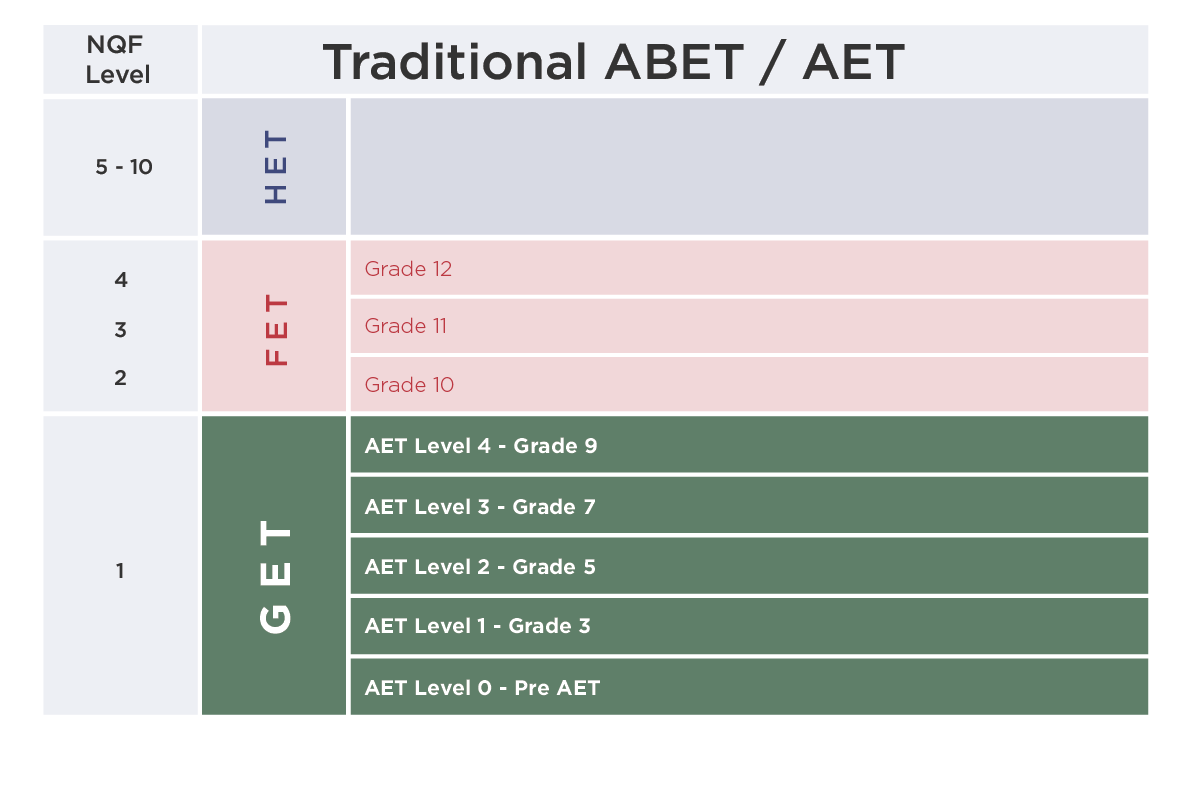 Adult Education and Training is the general conceptual foundation towards lifelong learning and development, comprising of knowledge, skills and attitudes. It is flexible, developmental and targeted at the specific needs of particular audiences. Upon completion, the training provides access to a nationally recognised Statement of Results, and will give your employees access to further qualifications and training.
What sets Triple E Training's AET programmes apart?
Focused on training adults in and for the working environment
Improves workplace Communications in English & Mathematics skills
Our Accredited Training equals credible results
Employees have the opportunity to access further training
Suits all industries
Can be implemented anywhere
Suitable for totally unskilled employees
Triple E Training brings AET to You
Triple E Training delivers state of the art AET instruction to businesses throughout South Africa using a comprehensive curriculum. We dedicate our best efforts to educating, enriching, and empowering unskilled employees so that they may advance in the workplace and society. Training is conducted at our client's facilities or at sites convenient to workers.