Are you investigating workplace learning and wondering why
placement assessments
are necessary? In this article, we aim to reveal the importance of such assessments by detailing what they are and what they help you achieve.
What is a placement assessment?
Why are placement assessments so important?
Who benefits from placement assessments?
Where can I send my employees for placement assessments
Placement Assessment
The goal of a placement assessment is to establish exactly where the candidate is in their cognitive ability. These findings are used by the facilitator to improve their facilitating and by learners to improve their learning. More specifically, placement assessments:
determine the best starting point for training
help learners to be aware of their strengths and weaknesses and target areas that need work
help facilitators recognise where learners are struggling and address these areas immediately
1. What is a placement assessment?
In all forms of education, including adult education and training (
AET
) and workplace learning, the term
assessment
refers to a variety of methods or tools that educators use to evaluate, measure, and document the academic readiness, learning progress, skill acquisition, or educational needs of students, learners, employees, or community members.
Assessments allow people to demonstrate their level of understanding of the subject matter, which is critical to the outcome of the learning process.
Placement assessments force us to answer these questions:
"Are our facilitators facilitating in a way that assists, enables and encourages your employees?"
"Are your employees learning what they need to be learning?"
Today's school leavers need to have more than basic language and mathematical skills. Sadly our education system and the socio-economic situation in our country mean that a quarter of our young adults don't finish school and more than half of those who do are not up to tertiary education or workplace standards. Many of them lack the skills that will allow them to face a world that is continually changing.
Our placement assessments determine the current skills and abilities of the candidate and allow them to be placed on the correct AET level within the General Education and Training (GET) band. It is a pen and paper assessment. The results indicate the pace at which the employee can be expected to learn.
We assess candidates to determine their level of ability when it comes to reading, writing, and maths. The results of these placement assessments allow us to ensure that they receive the most benefit out of the courses by tailoring a package best suited to their needs.
It is, therefore, vitally important to have placement assessments done before booking employees on any workplace training course. An accurate appraisal will ensure that each learner is presented with course material that they understand. The training sessions should ideally pick up from where they left off in terms of previous education.
2. Why are placement assessments so important?
The Triple E Training Process
It is essential to invite the relevant stakeholders in your organisation to participate in setting up your workplace training project. Combined cooperation will add value and increase the success of any AET learning initiative for the employer and staff.
Triple E Training offers an awareness session to answer questions about the AET project. A 45-minute session is conducted on your premises to provide information to potential delegates about ABET training.
The placement assessment is a pre-requisite to any training intervention. It allows us to recognise prior learning and assess current competency so that learners are placed on the appropriate level. It is imperative to determine the correct starting point for each adult learner and employee and identify the areas that need to be developed. The employees are assessed in communication in English and Numeracy. The assessments take place at your office, site, or any place you choose, on any day, and at any time. The assessment takes 3 hours.
Results and Feedback
A detailed report of the group statistics and the individual learner performance is issued after the assessment. Below are two examples of individual performance graphs drawn up from the results of the placement assessment.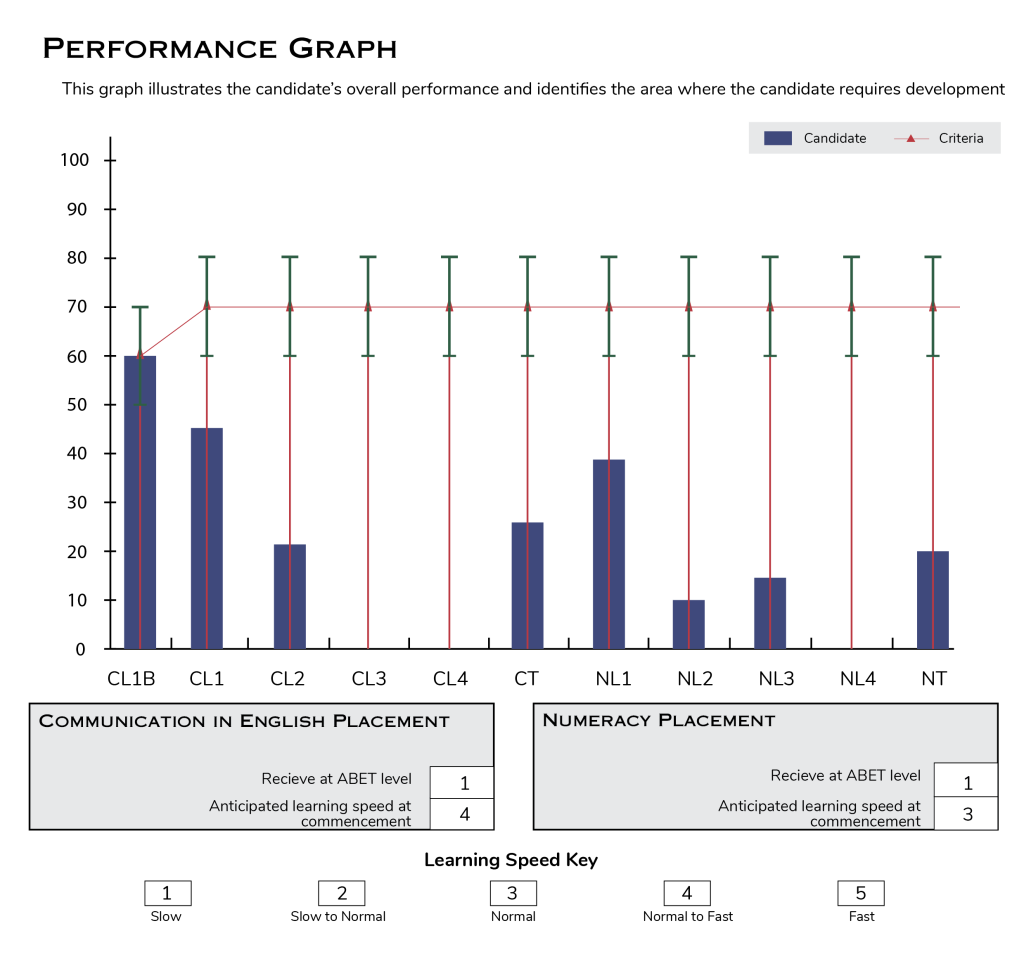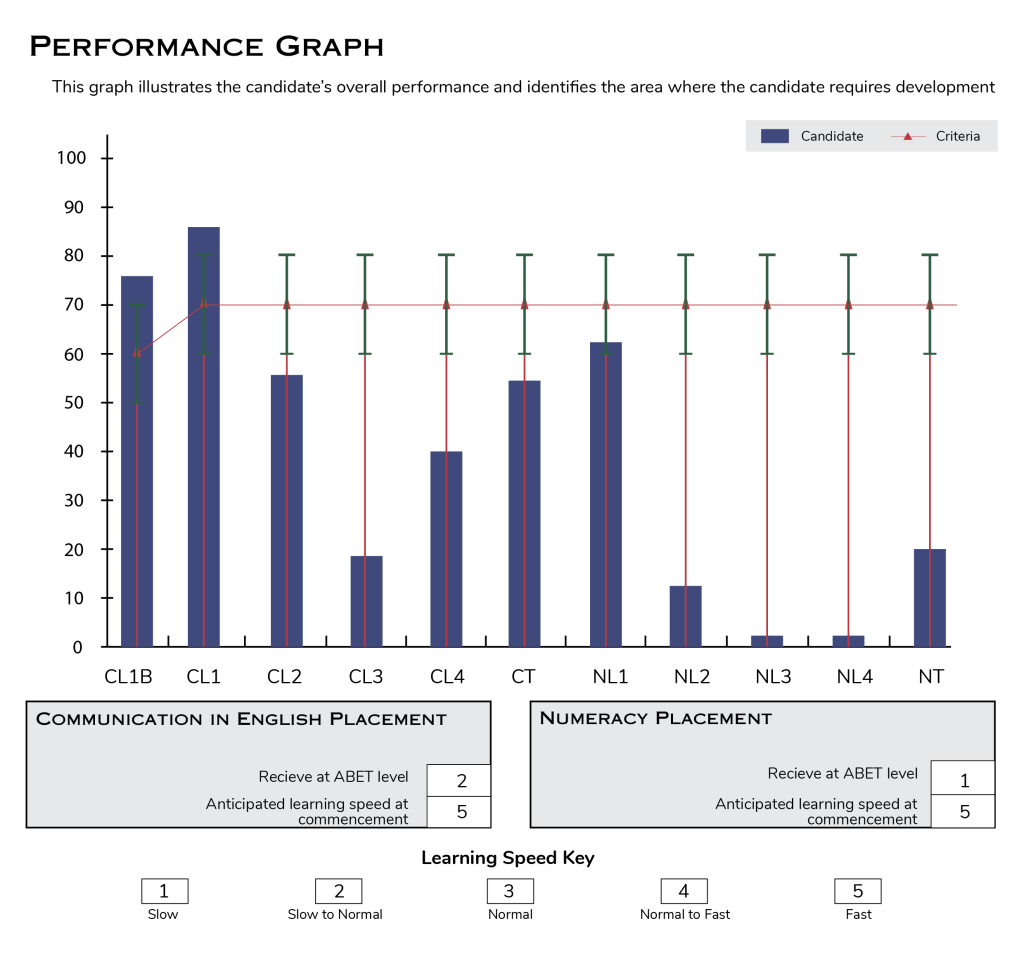 The first learner scored a placement equivalent to AET 1 Communication in English, while the second achieved AET level 2. Both employees scored an AET level 1 in Numeracy. The nature of our adult education and training system means that both candidates, plus any others who were assessed simultaneously, can attend AET lessons in the same session. The facilitator has copies of their performance graphs and will, therefore, train each candidate at their individual level.
Unfortunately, too many businesses participate in on the job training merely for the sake of compliance with the skills development element of the B-BBEE scorecard. This results in failed attempts at employee skills development because employees are chosen haphazardly for the training project. Conducting formative assessments is, therefore, an essential step in determining the success of any skills development project.
Why a blanket approach to training will not work
Some of the people who enrol in ABET programmes are totally illiterate. Their limited communication skills mean they will begin training at Pre AET. Candidates who have some reading and writing ability may be exempt from some levels and be placed between level 2 and 4, depending on their current understanding and knowledge. Others who enrol will have the necessary skill to be placed at level 4. Our highly trained facilitators can accommodate learners at different levels within one training session if need be.
Due to this diversity, and thanks to our cleverly designed packages which can benefit more than one level of learner at a time, each learner must be assessed before he or she can take part in an Adult Basic Education and Training programme.

The assessment determines the level of skills that the learner has already achieved and where they will begin learning within the programme. These assessments take the guesswork out of placement and guarantee a happier learning outcome.
Getting it right – the first time
An important part of finding the right facilitator to assist your workforce in attaining skills in Literacy and Numeracy through on the job training is to have your employees assessed. A placement assessment provides the facilitator with the data they will need to address any educational issues. If most of your employees are illiterate, it will be best to start at Pre AET of the Adult Basic Education and Training programme.
Pre-training placement assessments:
Determine individual skills levels
Help us make informed decisions about training options
Sessions can be tailored based on skills levels
Our assessments determine skills knowledge and not qualifications
We assess individuals to determine their understanding of reading, writing and mathematical abilities. Placement assessments allow us to tailor a solution best suited to individual needs, ensuring that everyone gets the most benefit out of training.
3. Who benefits from placement assessments?
To instil in your employees the successful attitude of life-long learning it is best to have strong fundamentals in place. Employees who are chosen for foundational training, and succeed, will become valuable assets to your company as they strive for skills development. Employees who have English and Mathematics fundamentals in place are well suited for learnerships and are more likely to see a learnership through to the end. This promotes a sense of personal growth and accomplishment in your employees, which improves morale and competency within your company.
On the flip side, employees who do not have fundamentals in place struggle with English; this leads to miscommunication, errors, and lack of understanding. Those without a solid foundation in mathematics will struggle with the calculations required in a learnership. This causes them to become discouraged and dispirited, which leads to a high drop-out rate and may cause animosity towards your company. You may spend large sums of money on employee training and never see a return on investment, simply because the employee was not assessed to ensure they start at the best level of training appropriate to them.
Assessed and trained employees:
Attain better results
Benefit from the training project
Add value to your industry
Become self-sufficient
Become promotable
At Triple E Training, we make sure that your employees actually need training, and which level of training bests suits the individual, before we embark on a training programme.
Your company benefits when:
time and money are not wasted on ineffective training
mentors don't end up spending all their time as trainers
4. Where can I send my employees for placement assessments?
We come to you!
Assessments are done onsite (at your company) or at any community-based venue of your choice, and at a time that will not interfere with your production schedule. This means that while your employees are being assessed, your operations will not be overly disrupted.
Triple E Training has been offering mixed levels of training for many years. The thousands of employees whose lives have been enriched are proof that it works. You cannot compare our training sessions to a teacher in front of a class of pupils; this is a facilitator tutoring individuals. If you pop into one of our training sessions, you may need a moment to locate our facilitator, as most of the time he or she will be sitting amongst the trainees.

No country can really develop unless its citizens are educated. ~ Nelson Mandela
In Summary
We hope that you
are indeed
investigating on the job training and that this article has helped you understand why placement assessments are a necessary first step in workplace training. Now that you know the benefits that assessing your occupational training candidates can have on your business and the outcome of your training programme, we trust that you will
contact Triple E Training
so that one of our skilled sales executives can come and see you or give you a call to discuss your best way forward.
Wise choices are based on knowledge, not numbers.